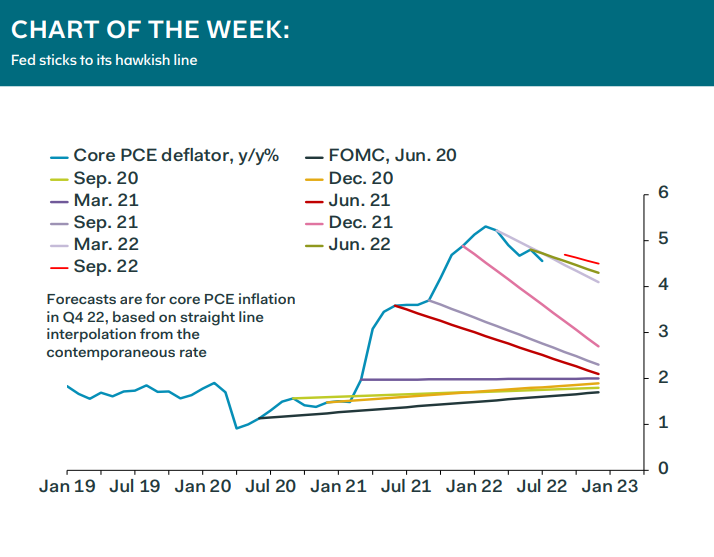 The Fed's forecast for a further 125bp of tightening this year is 25bp more aggressive than we expected. We see no let-up in the hawkishness, despite forecasts for much lower growth and higher unemployment.
The Fed slashed it growth forecasts for this year and next, and pushed up its unemployment projections as a result. But the inflation numbers were raised at the same time, by 0.2pp for this year and 0.4pp for next year. Our chart of the week suggests that the Fed now is too bearish about core inflation in the short term, after a long run of excessive optimism.
The forecasts, overall, clearly are intended to convey continued determination on the part of the Fed to drive inflation down, but we see room for maneuver, even in the quite short term, if we are right in our view that margin re-compression will drive down core inflation faster than the Fed and markets think. Chair Powell, however, is a textbook case of once bitten, twice shy, and in any event it might suit him to feign surprise at the speed of the drop in inflation early next year. The danger is that refusing to pause until inflation is clearly dropping and the labor market is softening raises the risk of an unnecessary—in our view—recession.
Ian Shepherdson, Chief U.S. Economist