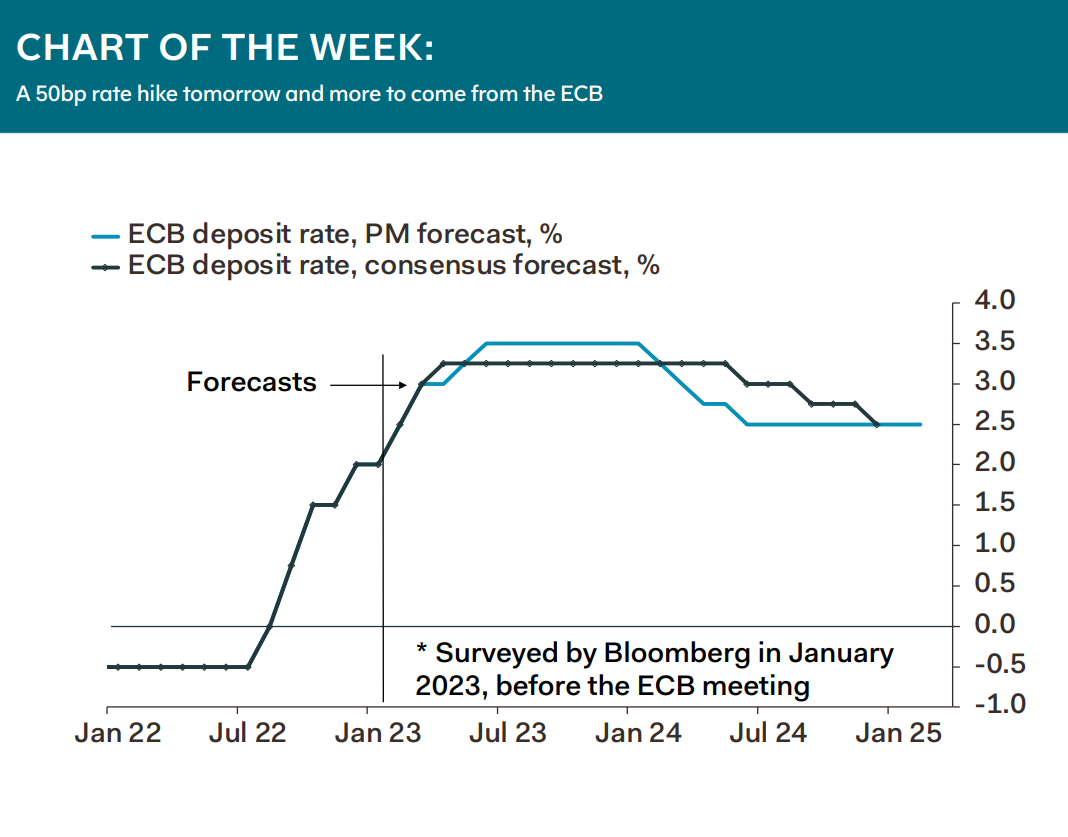 We think the ECB will hike the deposit and refinancing rates by 50bp tomorrow, to 2.50% and 3.00%, respectively. I, Inflation eased back to single digits in December, after the ECB set
investors' rate expectations on an even steeper course, but it remains uncomfortably high, and data today are set to show it rose again in January. Growth data also have been better
than expected since the December meeting, indicating that the economy has been more resilient to the stagflationary shock from the war in Ukraine than the Bank expected.
ECB Governing Council members' recent comments suggest the Bank will signal further hikes later this year, in line with our and consensus forecasts. The latest Bloomberg survey suggests that most analysts—like us—expect a 50bp hike this week, and then another 50bp hike in March. After that, though, we differ from the consensus.
Forecasters expect a 25bp hike in May to mark the end of the hiking cycle, and then expect rates to stay unchanged for around a year before the ECB starts to ease again. We too look
for the Bank to hike rates by 25bp in May, but we expect another 25bp in June—taking the deposit rate to 3.5%, in line with market pricing. And our forecasts for inflation imply the Bank will start cutting rates sooner than consensus expects, in Q1 2024. The ECB won't be talking about rate cuts anytime soon. But the hawks' defences will be slowly eroded over the course of H1, paving the way for a dovish shift in language and guidance in H2.
Melanie DeBono, Senior Eurozone Economist