Q: Could the mere threat of a no-deal Brexit trigger a recession?
Anxiety has grown that the U.K. is on the cusp of a recession; economists now collectively see a 30% chance of two quarters of negative growth within the next 12 months. Official data up to May suggest that quarter-on-quarter GDP growth likely slowed either to 0.0% or -0.1% in Q2, from 0.5% in Q1. In addition, the weighted average of the Markit/CIPS PMIs fell in June to its lowest level since July 2016. It is currently consistent with GDP falling at a 0.3% quarter-on-quarter rate.
We remain confident, however, that GDP growth will pick up in Q3, probably to about 0.4%. Industrial production in Q2 was depressed both by overseas firms running down the stockpiles of British goods that they accumulated in Q1, and by the decision of many car manufacturers to bring forward their annual maintenance-related shutdowns from August to April. So despite the global manufacturing slowdown, we look for a 1.0% quarter-on-quarter rise in manufacturing output in Q3. The sector should swing from subtracting 0.2 percentage points from GDP growth in Q2, to boosting it by 0.1pp in Q3.
The PMIs, meanwhile, likely are continuing to overstate the extent of the slowdown. Our chart below shows that the services PMI has been consistently too downbeat since October, when the perceived risk of a no-deal Brexit jumped. Business surveys have a long track record of overstating the impact of political uncertainty on economic activity. The services sector still looks set to benefit from brisk growth in consumers' spending, given that households' real disposable incomes currently are being supported by low inflation, 3%+ wage gains and the recent sharp increase in the income tax personal allowance. Consumers also are more upbeat than usual about the outlook for their personal finances, despite the political chaos. A no-deal Brexit almost certainly would trigger a severe downturn, but the mere threat won't trigger one when households have their heads in the sand.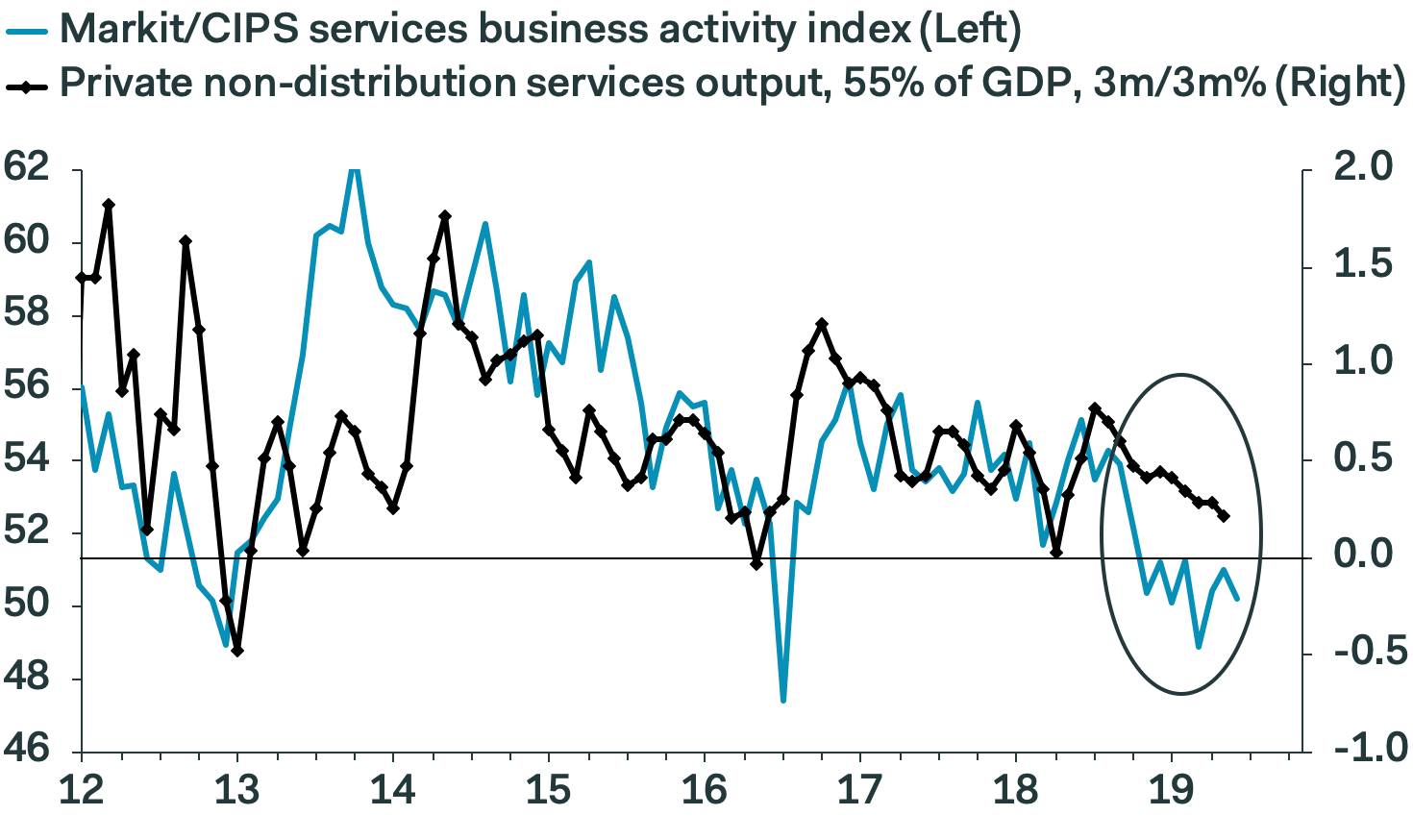 Samuel Tombs, Chief U.K. Economist
Pantheon Macroeconomics
To trial our u.k. Service, or any of our other products, please click here