Q. What do the protests mean for Chile's economy?
A. Street protests in Chile are continuing, even though President Sebastian Piñera has appointed a new cabinet, changed his spokesperson, and announced social reforms. The riots and demonstrations were triggered more than two weeks ago by a small increase in the Santiago metro fare. But the protests rapidly spread to the rest of the country, voicing a range of resentments, including inequality, the unfair tax system, low pensions and exclusive political institutions. Chileans have become disillusioned, because the protracted economic rebound has not benefited all citizens, and the social safety net remains inadequate. The global trade war has made things worse; Chile is a small open economy, highly dependent on commodity prices, with an export basket—and, hence, fiscal revenues—heavily skewed towards copper.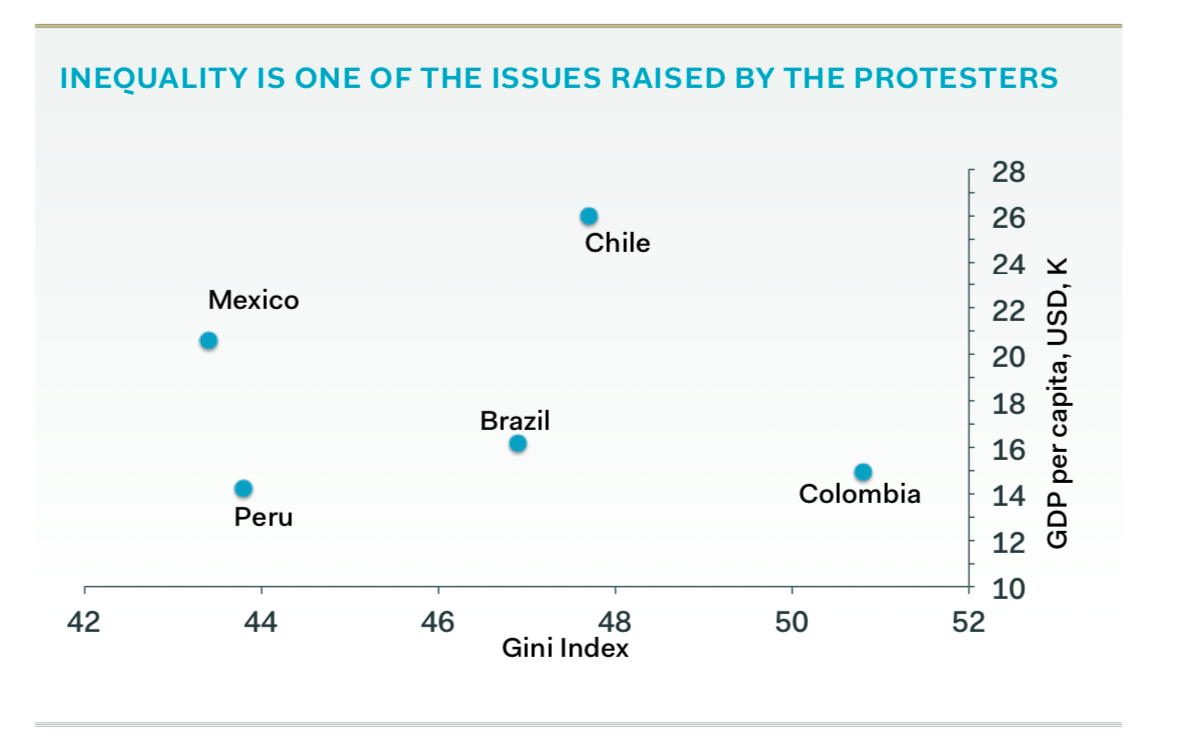 The immediate economic impact of the protests in Chile will be huge, pushing the country close to a recession. But we expect the hit to be temporary, and not to undermine the foundations of the country's recent economic success. Chile's government has clearly indicated that they will do all in their power to resolve people's profound frustrations over inequalities, and we expect the protests to ease relatively soon. The major sectors suffering directly are retail and other key services, which combined account for around 60% of GDP. Mining, construction and other key industrial sectors have also being hit by the protests. Our expectations for 2.0% growth in 2019 as a whole, which is already gloomy compared to the consensus, is increasingly looking optimistic, given the recent events.
The protests come at a difficult time. When the clashes began the economy was beginning to improve, following a poor start to the year. Unemployment was falling, the key industrial sector was on the mend, consumption was resilient and inflation was well under control. The IMACEC for September likely rose 3.8%, pushing the Q3 average up to 3.7%, from 1.9% in Q2. But the Q4 data likely will be poor once again, hit by the direct shocks to the economy and the collapse of consumer and business confidence. Accordingly, the central bank likely will cut interest rates by 25bp at each the two coming meetings
Andres Abadia,
Chief LatAm Economist